11 Jan 2021
Sometimes two is better than one. If your entire family is too large to stay under one roof or you are traveling with multiple families that prefer their own privacy, consider renting two homes side by side. We also offer a great map feature on our search results pages. Start your search here and on the results page, click "Map your results" or call us at 800.635.1559 and we can assist you in finding multiple homes side-by-side.
Search all Outer Banks Rentals
Nags Head Oceanfront
These four oceanfront homes in Nags Head are an entertainer's paradise. You'll enjoy true southern comfort, oceanfront grandeur, and exquisitely appointed furnishings. These 8 bedroom oceanfront estates are located in the heart of Nags Head and offer unparalleled panoramic views of the Atlantic Ocean. You will treasure every day spent vacationing in these homes luxurious homes. Enjoy watching the pelicans fly and dolphins play in the surf from your private dune-top deck and private walkway to the beach. Don't worry about keeping in touch while you're lounging around, High-speed Internet and Wi-Fi will keep you connected. Don't forget to bring your pooch!

The Good Life | Lazy Lizard | Big Daddy's | Big Mama's
These two oceanfront homes located at Mile Post 12.5 in Nags Head are spacious and well equipped.  Together they sleep 34, which is perfect for larger families that are looking to get together and create memories that will last a lifetime. Spend your days relaxing on the Oceanfront deck, soaking in the hot tub, or swimming in the Atlantic. You will enjoy the private walkway to the beach, providing your family with easy access to the ocean during your vacation.

Dunes for Days I Fly Boys (Formerly Simply Marvelous)
Rent both properties for special family events or reunions. Located at Milepost 12.8 with excellent ocean and Jockey's Ridge views. Amenities include covered porch with furniture, enclosed outside shower, deck at the dune line, and swing. 30 yards to the beach.

Located in the Heart of Nags Head, featuring top notch amenities, a central location and pet friendly accommodations for 30, these spectaular vacation homes are perfect to host your next family reunion!  
Kitty Hawk Semi-Oceanfront
These two semi-oceanfront homes in Kitty Hawk offer (4) bedrooms each, outdoor activities, WIFI internet access, close proximity to the beach and amazing ocean views. Situated right on the beach road, these two homes are sure to make your Outer Banks vacation unforgettable.

Bali Hai | Kitty Hawk Junction
Kill Devil Hills Oceanfront
Come and experience the beautiful Atlantic Ocean, only steps from your back door! If you want the best of everything, these homes are it! Location, Amenities, Master Bedrooms, and Pet-Friendly - then these are your rentals! You will enjoy hours of relaxation on the expansive decks, lounging around the pool, and soaking in your hot tub.

Kill Devil Hills Semi-Oceanfront - Milepost 7
These homes have eight and ten bedrooms, and together they sleep, 44 people! Both have private pools and hot tubs, keyless entry, and are pet-friendly. Silver Lining has an elevator. Enjoy being close to the beach, and to the best attractions on the Outer Banks!
Kill Devil Hills Semi-Oceanfront - Milepost 9
These two semi-oceanfront homes in Kill Devil Hills feature (4) bedrooms each, private pools, hot tubs, and close proximity to the beach. Only 30 yards until your feet reach the sand! Take a dip in the Atlantic Ocean during the day and enjoy having the pool for those nights spent at home!

Nags Head Semi-Oceanfront
These three semi-oceanfront homes in Nags Head offers all the amenities for an unforgettable vacation! Enjoy the private pool and hot tub or just walk on over to the beach for some wave action.
Turn'er Loose | Worth the Wait
Nags Head Semi-Oceanfront
These two semi-oceanfront homes in Nags Head featuring custom mural paintings and abundant living space, along with a private pool, elevator, and a play area for your pooch! These two homes are located right across the street from the beach access and convenient to great local restaurants, shops, and Outer Banks area attractions. You're right in the middle of everything Outer Banks has to offer!
Nags Head Semi-Oceanfront
These 4 Semi-Oceanfront 8 bedroom homes are located in the heart of Nags Head! Each equipped with elevators, private pools, hot tubs, sheets & towels with beds made & much more! Not to mention a short 2-minute walk to the nearest beach access! These homes can accommodate 16 people each!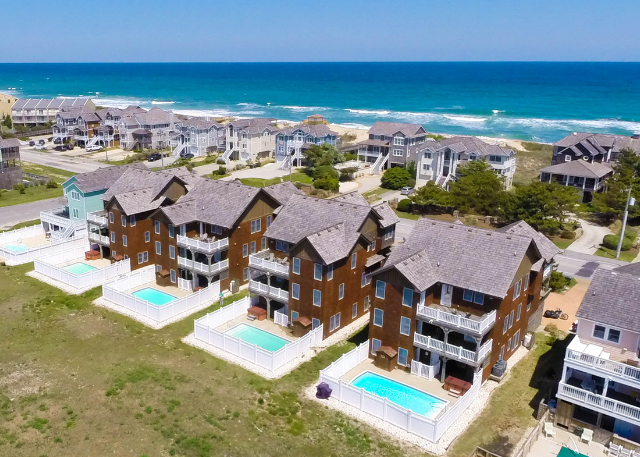 Cape May | Cape Cod | Cape Coral | Cape Ann
Nags Head Oceanside
These two Oceanside homes are stocked with all the amenities to make your vacation a pure delight. Each home features a swimming pool to wind down in and rec room to enjoy on those cloudy days. What more could you ask for when looking for a two side by side vacation homes!
Ace's Delight  | Mi Casa, Su Casa
Duck Oceanfront
Sanderling Oceanfront Retreat! Talk about spectacular sunrise and sunset views! The community of Sanderling offers nature trails taking you from oceanfront to the soundfront giving you the opportunity to see the creatures and foliage upfront and personal. Only 20 yards stands between your back door and your feet in the sand.

Old Bay Hideaway(Formerly Ashleigh's Retreat) | Four Buoys and a Gull

Duck Oceanside
You will be hard-pressed to find a more beautiful spot on the Outer Banks. Perched high in Carolina Dunes, between Duck and Sanderling, 'The Sailfish' and 'Banana Republic' offers panoramic views of both sound and ocean. Just a short walk of 300 yards to the ocean and beach for that day in the sun. It also features a short walk to the sound side beach, ideal for small children.

The Sailfish | Banana Republic
Corolla Oceanfront - Ocean Sands A
These two Oceanfront home in Corolla are truly "Dream Houses" on the Ocean. These 9 bedroom, luxurious homes have everything you could dream of and more. Beautifully decorated with breathtaking ocean views. Bask in the sun on the beach or beside your private pool. Located a short drive from the finest shopping areas and gourmet restaurants; minutes from golf at the renowned Currituck Club; these homes are perfectly located to take advantage of all that Corolla has to offer. In fact, you can rent almost this whole street in Ocean Sands A through us. Check out the other homes nearby here, or click on the other options around the cul-de-sac below!

Ocean Dream | Gertrude's Breakaway | Myra Dee | Oasis
Corolla Oceanfront
These two Oceanfront homes in Corolla are perfect for day gazing or star searching at night. Located in the quaint community of Crown Point, you have access to an Oceanfront community pool as well as other community amenities right at your fingertips.  Each home features 6 bedrooms and spacious living accommodations for large family groups.

Corolla Oceanside - Section O
These three oceanside homes in Corolla are the perfect Oceanside retreat for you and your family. Located on a quiet cul-de-sac, enjoy magnificent wide-open views of the lake and beyond to the ocean. Your family will enjoy the various activities available which include spending the day at the beach (just 200 yards to the access), swimming in the private pool and soaking in the hot tub. Don't forget about fishing in the lake!
Paw Prints in the Sand |  Paws and Reflect | Bali Dreams
Corolla Oceanside - Whalehead
These two homes are side-by-side in the popular beach community of Whalehead in Corolla, NC! Each home has 6 bedrooms and combined can sleep, 35 guests! (Nauti Days sleeps 18, Nauti Gulls sleeps 17). Both are pet-friendly and offer a private pool and hot tub.