5 Oct 2022
Oh the magic of the holidays, there's nothing quite like the time of year that brings family and friends together to celebrate the season with cheerful sights, smells, sounds, and food.... oh all that food! The holidays here are celebrated no differently than any hometown, and we have our fair share of tacky light tours as neighborhoods compete each year. And of course we have Santa too!  He loves to come to the Outer Banks any chance he gets.  Here is a list of where Santa will be in case you are in town and want to stop by for a chat!
North to South:
Corolla Whalehead Historic Park - Christmas Village
Kitty Hawk Kites at Jockey's Ridge Crossing
While many head further south to the warmer beaches (snowbirds, we call them) during the cold months, there's just something about tossing on that comfy sweater, and your favorite beanie, and hitting the beach, right here on the Outer Banks.  The view is just the same, minus the crowds.  The salty air smells just the same, and the sounds of the seagulls and waves hitting the shore are still playing their tune. The nip in the air is a great excuse to cozy up back home with a hot cup of cocoa, tune into the Hallmark channel, do some online holiday shopping, and 'tis the season to be oh so jolly!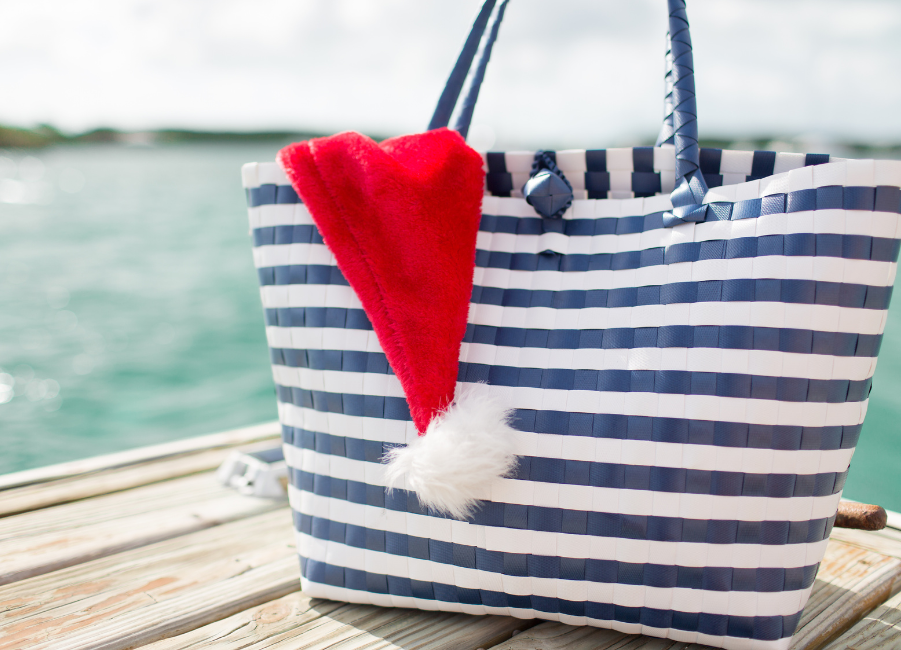 So if you think spending some time in the winter on the Outer Banks sounds like a good idea, let us tell you what some of our favorite holiday pastimes are around town. 
First stop, Manteo.  Beautiful any time of the year, especially the downtown waterfront area, with its quaint shops, the marina, gorgeous historic homes, stroll-worthy neighborhoods, and views of the water. A walk-through Manteo is a must-do any time of year.  But when the holiday season is upon us, you won't want to miss the Manteo Holiday Tour of Homes or meandering through the Elizabethan Gardens Winter Lights display in Manteo.  
Also, this year, if you time it right, in November, a visit from the U.S. Capitol Christmas Tree makes its last stop on the way to Washington, D.C., and will be on display on Main Sreet in Manteo. Pretty cool, huh?  Manteo also has a Christmas parade, tree lighting, and a New Year's Eve ball drop!  Don't even try to compare it to Times Square. You can't compare a sleepy seaside town to the city that never sleeps.  And you wouldn't want to!
Lastly, while you're enjoying a visit to Manteo, a great place to stop for some last-minute Christmas shopping, and where you can pick up that perfect keepsake is the Christmas Shop & General Store, an experience in and of itself. They're open all year round, and there's a surprise section featuring several rooms full of frightful Halloween props and decor. Not very Christmasy, but if you're here any other time of year, it's a fun and free activity.  Unless you splurge on some spooky gear... then, well... not free.  But we just had to mention it, and well... I guess spoil the surprise!  So enter if you dare, and don't say we didn't warn you!
Now, if you have yet to whip out that map to find majestic Manteo, it's just southwest of Nags Head.  But if you are staying on the upper beaches, during the off-season, it's worth the short drive, trust us!  So staying up in Corolla, or Duck shouldn't stop you!  
Speaking of Corolla, if you are planning a trip during the holidays, you won't want to miss the Whalehead Christmas Candlelight Tour and Corolla Christmas Village.  Journey back in time to the 1920s in this beautifully decorated mansion. Learn about the home's rich history (pun intended) and get a live performance on the original custom-designed Steinway piano. Continue the holiday experience by wandering through the village also on site of Whalehead Historic Corolla Park, just at the foot of the Currituck Lighthouse.  Talk about an unforgettable coastal holiday experience!  
If you forget to pick up that keepsake or holiday gift while visiting any of the already mentioned, it's not too late!  Here are some great places to grab that unique OBX gift and start checking off that holiday So whether it's Thanksgiving, Christmas, or if you are ringing in the New Year on the Outer Banks, we think you've made a wonderful decision.  Any time of year is a great time to gather together with loved ones, and we just so happen to have many vacation home options that are open during the fall and winter months. You can start your search below, or if you're like most folks, you will want to start your search by checking out the most important room in the house, the kitchen.  Here are some great homes with incredible kitchens that are the perfect choice for spending the holidays together with friends and family.  
In case we forgot to mention a holiday event, you can always check our calendar to see what's going on throughout the season.  We look forward to having you!