25 Oct 2023
The Outer Banks is a magical place to be during the holiday season and we cordially invite you to join us this year!  The holidays here are celebrated no differently than any hometown, and we have our fair share of tacky light tours as neighborhoods compete each year. The natural beauty of the area still abounds, minus the crowds.  The salty air smells just the same, and the sounds of the seagulls and waves hitting the shore are still playing their tune. 
Bundled-up beach walks are wonderful, and each town is embellished in holiday trimmings, with a plethora of festivities to enjoy.  After a beach walk, or some time out and about dining, shopping, or attending one of the events mentioned below, you'll be ready to cozy up back home with a cup of hot cocoa, tune into the Hallmark channel from the comforts of your home away from home on the Outer Banks! 
Come take advantage of off-season rates and treat you and yours to an OBX rental for your holiday vacation!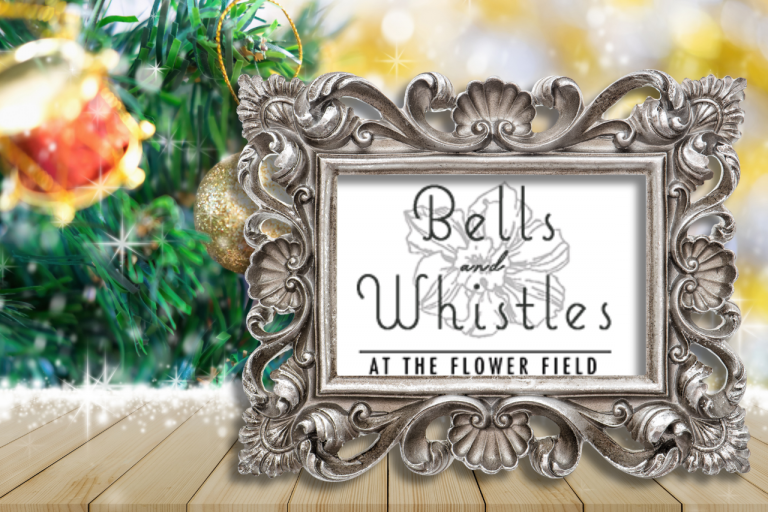 Once you have selected your holiday home on the Outer Banks, why not have it all decked out and ready to go for you and your family upon arrival? 
 'Bells and Whistles' Residential Holiday Design Services can create a festive environment with packages that include setting up and trimming a Christmas tree in your home with twinkling lights and a basket of ornaments set aside so you and the family can enjoy the tradition of decorating the tree together.  Here are their Holiday Décor Packages: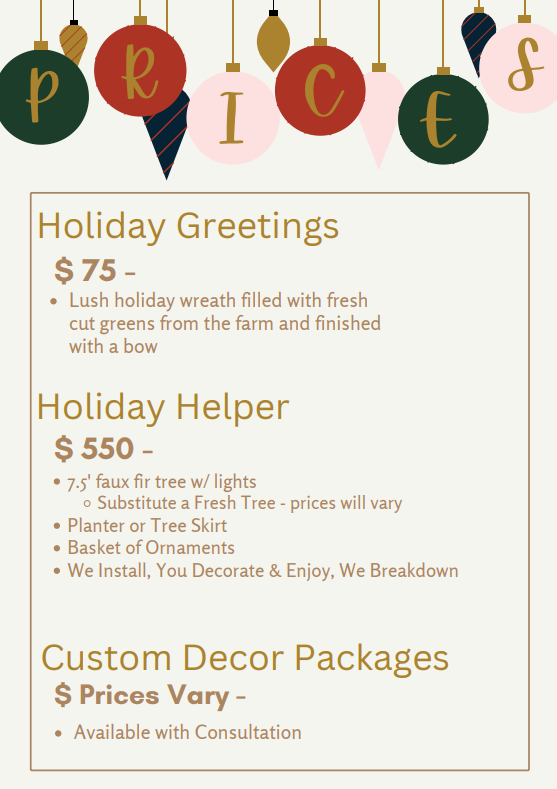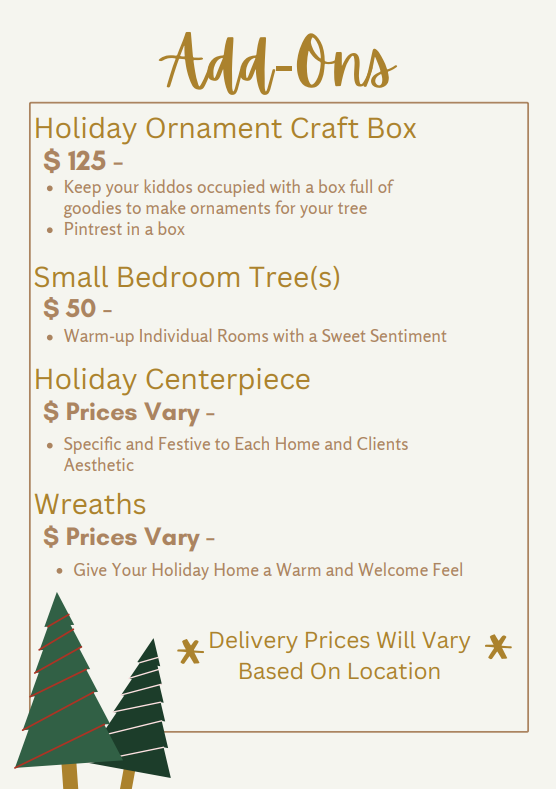 You can contact Bells and Whistles directly if you would like to have them convert your holiday home away from home into a warm, welcoming space trimmed with holiday cheer!
Now let us tell you what some of our favorite holiday pastimes are around town during the holidays: 
First stop, Manteo.  Beautiful any time of the year, especially the downtown waterfront area, with its quaint shops, the marina, gorgeous historic homes, stroll-worthy neighborhoods, and views of the water. A walk-through Manteo is a must-do any time of year.  But when the holiday season is upon us, you won't want to miss the Manteo Holiday Tour of Homes or meandering through the Elizabethan Gardens Winter Lights display in Manteo. Manteo is located just southwest of Nags Head. It's a quick drive and well worth the visit.  You also won't want to miss some great holiday shopping at the outdoor Holiday Farmer's Market happening in Nags Head. Grab a bite to eat and have a festive beverage at one of the participating "12 Bars of Christmas".  And of course, make sure you take the kids to see Santa before he heads back to the North Pole!   Head on up to Corolla and Duck for some more holiday cheer.  You'll be glad you did!