12 Jan 2023
Many families drive over 12 hours to put their feet in the sand and enjoy a week at the world-renowned beaches of the Outer Banks, NC. When heading south, crossing the border from Virginia into North Carolina, the "we're in the home stretch!" feeling of anticipation grows as your vehicle's tires hit the Caratoke Highway (Hwy 168) in Moyock, NC. 
Depending on when you hit the road, you may experience some traffic joining other beachgoers also traveling south.  Here are some tips on how to avoid it! But we also want to say, EMBRACE IT!  As frequenters of Hwy 168, we can tell you that there are many primo places to stop and enjoy.  So why not start your vacation on the way, and stop in at one of these recommended destinations?  Trust us; we know you are eager to get down here and start that Outer Banks vacation as soon as possible.  But we also wanted you to have a few choices of worthwhile pit stops for stretching your legs or taking a break from any traffic that could pop up as you get close to your final destination. 
So ordered from North to South, here they are!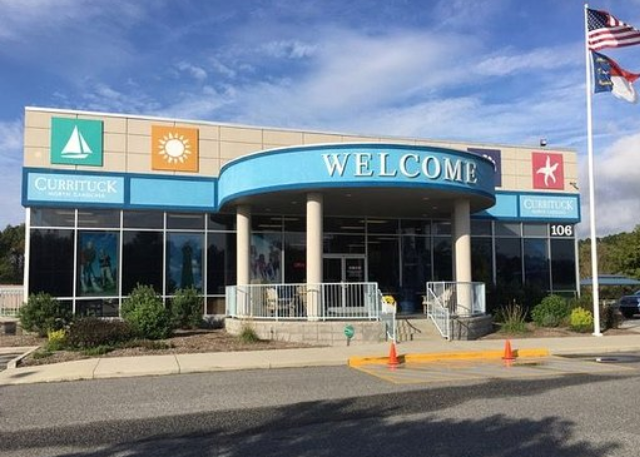 The Currituck Welcome Center
The Currituck Welcome Center is located right at the NC/VA border. This is the place to stop for brochures, rack cards, and local business information with great ideas on what to do on vacation. 106 Caratoke Hwy, Moyock, NC 27958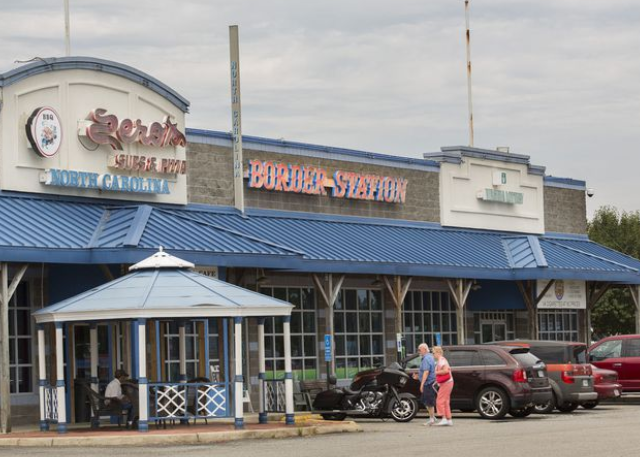 The Border Station
The Border Station is located at the NC/VA border. Stop in to fill up the tank and grab a bite to eat! There's 52 miles to go until you reach the Wright Memorial Bridge, the gateway to the Outer Banks!  100 Caratoke Hwy, Moyock, NC 27958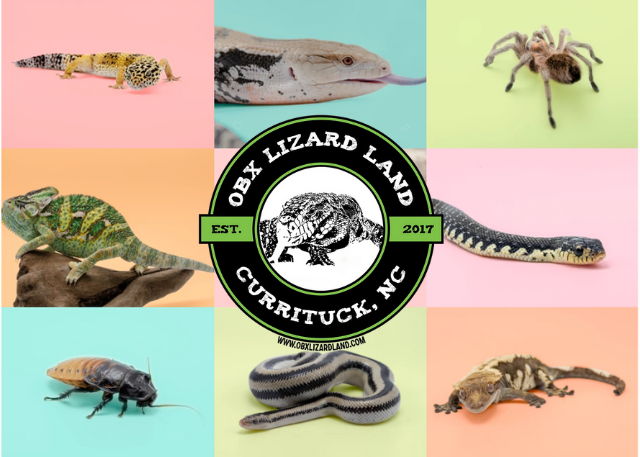 OBX Lizard Land 
If anyone in your vehicle has a love for reptiles, then this is a must-stop! The owners are passionate about their animals, and it shows. This converted 200-year-old farmhouse is now home to a large collection of snakes, lizards, amphibians, and arachnids. 2815 Caratoke Hwy, Currituck, NC 27929
Buffalo City Distillery
Located in Point Harbor just North of the island, you will find OBX's first legal grain-to-glass distillery since prohibition.  Offering tastings, tours, and events, including Trivia night and Wine Down Wednesdays.  Plus a great assortment of live music and food trucks to compliment the already incredible venue and its offerings. 8821 Caratoke Hwy. Point Harbor, NC 27964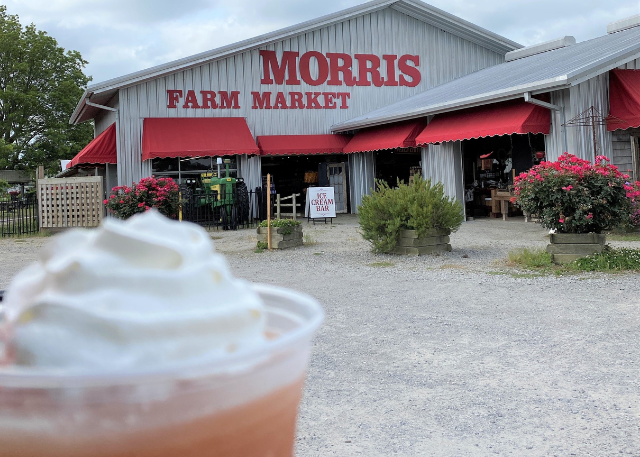 Morris Farm Market 
Morris Farm Market is a great place to stop on your drive down to the Outer Banks. Just prepare to pull in when you see the line of vintage tractors on the side of the road. Inside you will find ton's of local homemade goodness, including fresh produce, jams, snacks, ice cream, as well as unique gifts and home décor, plus a plethora of clean bathrooms! Morris Farm Market is typically open from April until November. 3784 Caratoke Hwy, Barco, NC 27917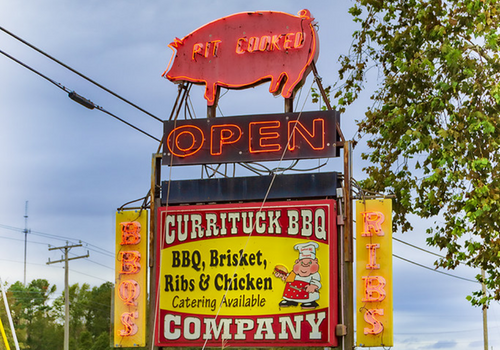 Currituck BBQ
If your stomach is growling and you're in the mood for some delicious North Carolina barbeque, Currituck BBQ is the place to eat! Menu items include Pork BBQ (of course), Brisket, Ribs & Chicken; you can't go wrong. There is plenty of outside seating, and the best part is – Most everything comes out SUPER fast – you'll be back on the road to the beach in no time! 4467 Caratoke Hwy, Barco, NC 27917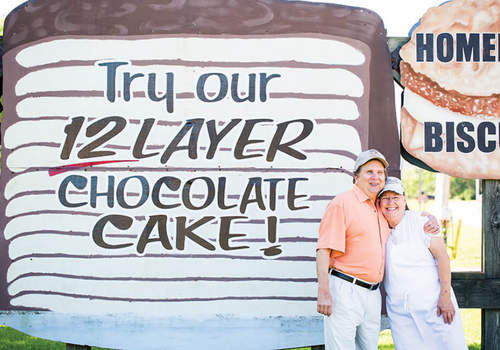 Cindy's Kitchen
Located right next door to Currituck BBQ – Cindy's Kitchen is home to the famous 12-layer chocolate cake! Trust me; you will want to stop for this mouth-watering dessert! 
Cindy's Kitchen, 4511 Caratoke Hwy, Barco, NC 27917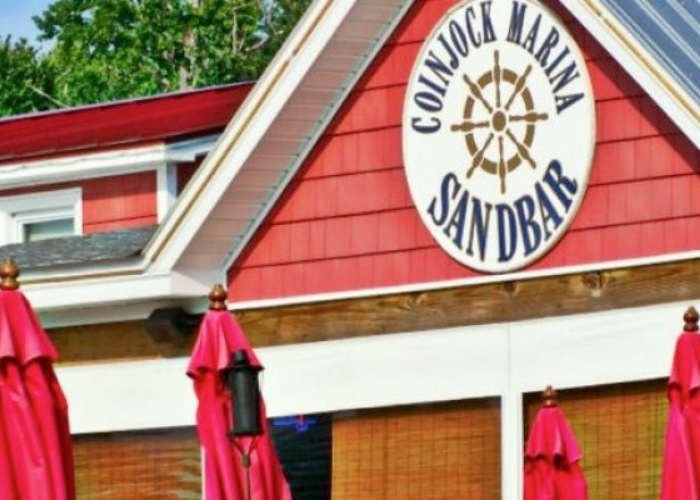 Coinjock Marina Restaurant
Located on the Intracoastal Waterway at Mile Marker 50, the Coinjock Marina has been a longtime favorite for transient yachtsmen traveling north and south along the waterway. Stop in for some waterfront dining and watch the boats past by. 321 Waterlily Rd, Coinjock, NC 27923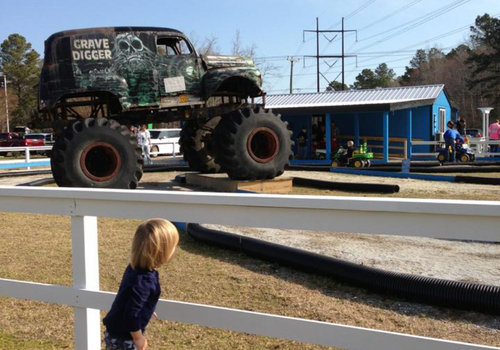 Digger's Dungeon and Muddy Motor Sports Park 
The Grave Digger's "Digger's Dungeon" is easy to spot in Grandy, NC, due to the upturned monster truck fronting the highway. Home to the World Famous monster truck Grave Digger, the Digger's Dungeon is a must-stop if you travel with kids! During the Summer, you can even ride on a Monster Truck! You may even get lucky and find an event being held at the Digger's Dungeon OR at the nearby Muddy Motor Sports Park a bit to the north. Events include mud bogs, flea markets, antique fairs, and much more! Digger's Dungeon, 5650 Caratoke Hwy, Poplar Branch, NC 27965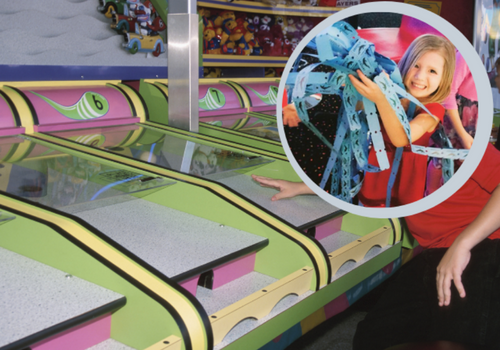 Flippers Convenience & Arcade
This local's favorite is a hidden gem.  Don't let the exterior fool you! Step inside to pay for gas and a snack, and you just may end up trying to beat your highest score on the giant Pac Man, or become a Pin Ball wizard before the day's end.  With laser tag, more pinball machine's than you've likely ever seen, video games from classics to VR, skeeball, foosball, billiards, superbikes, kiddie games, and much, much, more ...you just may need to add this to your "must do pit stop" list along Caratoke Highway. 6615 Caratoke Hwy, Grandy, NC 27939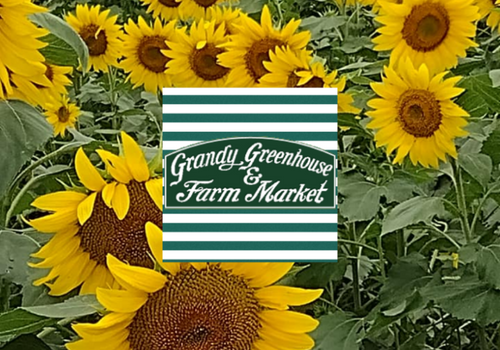 Grandy Farm Market
Stop in for some fresh produce, a pie or two, and maybe a peach milkshake to tie you over!  Depending on the season, you can take a tractor ride through the cotton fields or sunflower fields, and in the fall the pumpkin patch! 6264 Caratoke Hwy, Grandy, NC 27939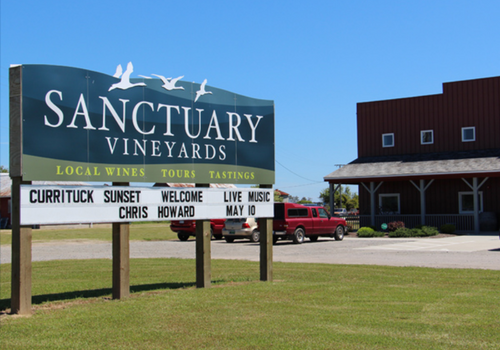 Sanctuary Vineyards Outer Banks Winery
Sanctuary Vineyards is located on a quaint seaside farm where grape vines rival corn rows.  Stop in to stock up on some select wines for the week!  
7005 Caratoke Hwy, Jarvisburg, NC 27947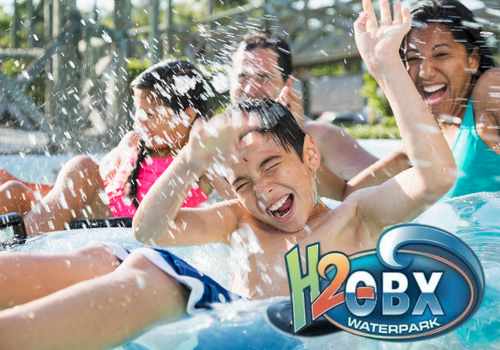 H2OBX Waterpark
Located ten minutes before the Wright Memorial Bridge H2OBX is a great place to hang out while you're waiting for your house to be ready for check-in or a great way to tire out the kiddos on the way out! Enjoy the lazy river, wave pool, kid's park, cabana, flow rider, and more. 8526 Caratoke Hwy, Powells Point, NC 27966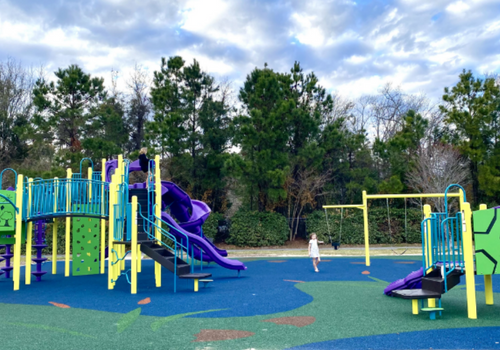 You're almost there!  The Wright Memorial Bridge that connects the mainland to the Outer Banks is just around the bend.  If traffic is a tad heavy and the kids are restless, this is a great place to stop.  With playground equipment, soccer fields, a walking track, outdoor skate park, boat ramp, tennis courts, and picnic tables, and yes, bathrooms!  
Sound Park, 8955 Caratoke Hwy, Point Harbor, NC 27964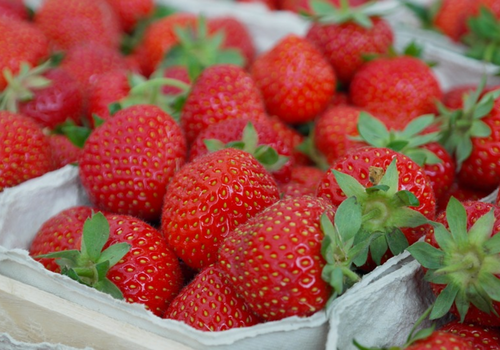 Pick Your Own Berries
Right before the Wright Memorial Bridge, there is a great little farm that allows you to pick your own strawberries & blueberries. This is a fun activity for all.  They are only open for a few weeks out of the year so if you're lucky enough to see it open – STOP IN at 135 James Griggs Road, Point Harbor!
Some Road Trip Wisdom
We hope this list of stops will help you discover a new place or two to enjoy on the last leg of your trip to the Outer Banks. If stoppin' aint an option, then let us suggest a couple of ways to pass the time Old School Caratoke Highway Style:
The Alphabet Game (go through the alphabet and when you see a word that starts with A on a sign or billboard, call it out and then on to the next.  No skipping!  Except for Q, X, and Z. Maybe get extra points for those!)
In My Suit Case I'm Going to Bring: this game needs more than one player, the more that play the more challenging and fun!  (the first player say's "In My Suitcase I'm Going to Bring a _________." Then they name something, anything, the sillier the better that starts with the letter A.  Then the next player repeats the A item and creates a B item to add.  Then the next repeats the sentence with the A, the B and their C.  You get the picture!  
Creepy House: all along Caratoke Highway on both sides of the road you will pass old abandoned houses.  Count them (on your side only) and whoever finds the most wins.
Lastly, make sure you check out our other blog post with some great ideas, including scavenger hunts and kid's printables to bring along with you on your trip to the Outer Banks! 
Kid's Activities for the Road Trip to the Outer Banks
If you haven't planned your next Outer Banks vacation with Beach Realty, why not start today? We have lots of options in vacation rentals from 4×4 Carova Beach, Corolla, to South Nags Head.
One more thing... Please drive safely through the "home-stretch" as many tragic vehicle accidents happen annually within the final 10 miles of HWY 158 leading up to the Wright Memorial Bridge. We understand everyone is eager to get to the beach, but we want everyone to get here safely!