24 Jan 2022
There are many reasons guests choose to rent a vacation home, instead of opting to stay in a hotel.  The biggest is to feel at home, while away.  To leave the pressures of daily life behind, while still feeling the peace that comes from being "at home", and the fun and excitement of a new adventure, along with insight into what living in a place they love to visit could be like.
To make sure guests enjoy their stay, and want to return, it's critical that homeowners make their guest's stay something special.  Small touches can put the cherry on top of their vacation and could guarantee a great review or a repeat reservation for next year. As you enjoy time at your home off-season, ask yourself what else you could add to enhance your guest experience. Knowing what potential guests are expecting, and how to turn them into repeat guests is key.  Here are some tips we hope you will consider to assist us with delighting your guests!
Make Sure You Have All the Stuff
Guests appreciate when there are extra blankets for when they get cold, or having a few extra kitchen towels to use. Some of our owners even provide laundry detergent or bathroom soaps for their guests as well as cleaning tools such as a nice broom and dustpan, grill cleaning tools, or anything that may help guests keep your home nice and clean during their stay, and easier for the professional cleaners at the end of the week.
Consider supplying a First Aid kit and attach a note asking guests to let you know when it's running low.  It's also nice to provide bikes, beach equipment, and games or movies for your guests to use during their stay. Keep in mind, you will want to ensure these items are replaced as needed. Lastly, consider labeling your kitchen cabinets and drawers with their contents (nice clear labels will offer convenience without interfering with the aesthetic of the room.) When guests feel that they are staying in a home that is well taken care of, they will take better care of the home as well. 
Lastly, spending time (at least a weekend) in your rental property each year will give you ideas on what is needed to improve your guests stay. 
Features and That Will Help Your Home Stand Out
Adding little touches to your home will make it memorable and 'share worthy' on Social Media, which is a great way to get ample exposure. Here are some things to consider:
Workstation: Good WiFi in a comfy quiet spot so guests can access the internet and get some work done will go a long way and be greatly appreciated for the many that need to work remotely, even while on vacation.  No need to give up a valuable bedroom for office space. A simple spot for someone to plugin for a bit, charge up that laptop, and connect as needed is perfect. A desk with a view will be appreciated.  Don't forget to include a stack of Post-It notes, some pens, and a power strip to plug into.  Toss in a "Don't Work Too Hard" sign with the WiFi password and you're good to go!
Reading Nook: An inviting place to curl up with a good book where someone can relax and perhaps even write that wonderful review of your vacation home and their incredible time there! Don't forget the personalized comfy pillows with your cottage name!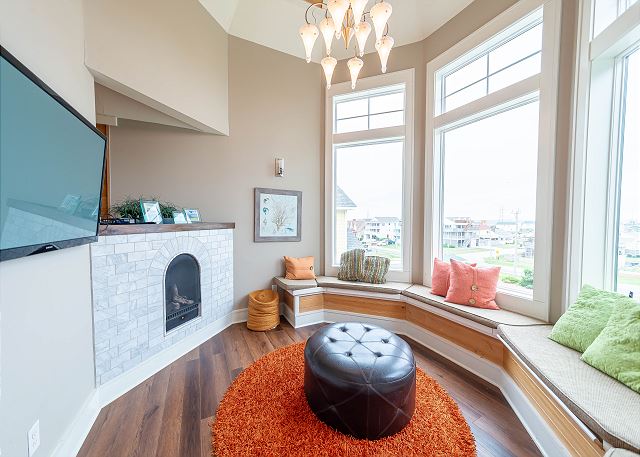 This nook in Good Karma Retreat has that "Wow Factor" offering a space that invites guests to relax, precisely why they are on vacation! Creating a space on a budget is also do-able. Reinvent that corner or convert that un-used closet!  Just check out Pinterest for ideas! 
Hammock: Nothing beats a hammock nap while on vacation! Visit any of the Nags Head hammock stores for inspiration!
Hot Tub: Most of the homes in our rental program have one.  It's one of the amenities most searched for and can keep your home rentable in the shoulder and off seasons as well.  
Smart TVs that will allow guests to log in to their streaming accounts.  Or offer guests ways they can access their accounts on non-smart tv's with a Roku, Firestick, Chromecast or Apple TV.  Make sure you include signage or a label on each device reminding them to log out. 

The 

Roku TV

  is a great option that has built-in streaming capabilities and is user-friendly!

Phone and tablet charging stations are a great addition. Consider something like this one, engraved with your cottage name for that personal touch, or this Socket Shelf is a great way to add a useful guest-friendly convenience to your home. 
Or consider adding lamps with USB ports to the bedroom nightstands like this one from Lamps Plus.  This is a popular amenity found in most hotels nowadays, and it means guests won't have to spend time searching for a hidden plug behind the bedside table in order to charge their phone overnight.
EV chargers are becoming more popular as battery-operated vehicles become the norm.  Vacationers who own electronic vehicles will hone in on their search for those that offer this amenity.
Alexa Show is a great way to quickly bring your home into the modern age.  Many guests have them in their own homes and have come to rely on the convenience they offer.  
Welcome Book: A nice binder full of information such as recommendations on where to eat, where to play, how to contact Beach Realty maintenance and service, and important information about the house.  Why not make it even more personal with a link to a welcome video from you!
Greet Your Guests with a Personalized Guest Book or Video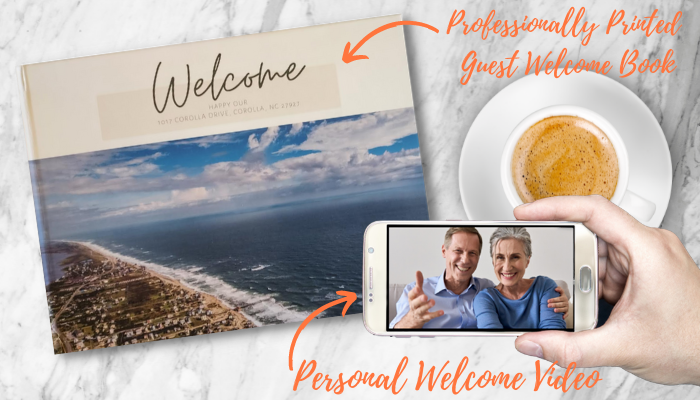 We know you can't be present to welcome your guests in person, but we do feel that adding this personal touch is important. Now a day's it's super easy to greet each guest with either a letter, a nicely bound book, or perhaps even a video.  Recording a video greeting your guests is a great way to make them feel welcome while also adding a connection that will encourage those in your home to treat it like their own. People will respect a home more if they have "met" the owners.  If you choose to record a video, here are some tips:
Use a smartphone on a tripod or propped so you are at eye-level looking directly at the camera.
Choose good natural lighting without noise in the background (unless it's waves and seagulls, then by all means!). 
Tell them a little bit about yourselves, and what you love about the home and the area, perhaps why you chose to purchase the home. 
Tips and tricks on how to use the home.  Operating home features from smart tv's and lights. Why there's not a garbage disposal, a common thing on the Outer Banks. Along with seasonal harmless bugs! 
Tell them about amenities they can enjoy and where they are stored such as pool floats and beach chairs and umbrellas.  (Throw in some beach safety and courtesy tips while you're at it!)
When finished, send us your video by uploading it to us here: https://forms.gle/PavwHVDPFrAyG9sC6. We will publish it to our YouTube channel and send you a link so you can view it.  We recommend adding a QR code (we can provide that too...

 it's a great way for guests to easily pull up the video on their smartphones. 

) to signage in your home and will gladly help with getting it created and into your home.  We already provide refrigerator magnets that include WiFi passwords, the home's address, and other important and useful information.  Make sure you reference this in your video as well in case it's not elsewhere and not affixed to your refrigerator.  We can also provide a link to the video in the automatic emails we send to your guests in the days and weeks before their arrival, as well as in the Glad to Have You app they will have access to prior to arrival and during their stay.
Provide a Welcome Gift
We like to include a Beach Welcome Bag to all of our owner's guests with a starter set of paper towels, dish, laundry, and bar soap. This year we threw in a few mementos including a journal and a flashlight. In the upcoming season, we will also be adding gifts such as beverage cups imprinted with a fun drink recipe, and a deck of Beach Realty playing cards depending on the season. Some vacation homeowners take it one step further by providing their own custom welcome bag or by leaving a gift upon arrival. 
Here are a couple of other ideas that we think will be a big hit, and will save you some time and effort as well.  A simple bottle of wine and a thank you note is always a thoughtful gift, and your guests will appreciate you for it!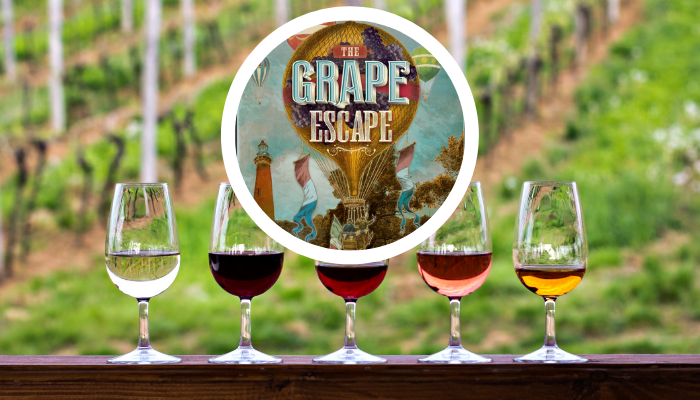 You can take the guesswork, and legwork, out of choosing the wine with some help from our friends at Sanctuary Vineyards.  For the cost of a case of wine,  (they'll keep it at temp control for you at the winery until your next visit), you can join The Grape Escape program.  This is a fantastic way to not only get your hands on some delicious local wine, and wine glasses for your home, but it also comes with vouchers you can leave for guests good for free wine tastings!  We recommend including their rack card in your welcome book (or affixed to the inside of your wine glass cabinet) that will contain a QR code guests can scan to schedule their free wine tastings (a $10 value)! With the program you will also receive a set of six Sanctuary Vineyards wine glasses!   
Since man can not live on wine alone, why not throw in some bottled waters, coffee, and tea? Our friends at LeBleu make it super easy with their delivery program.  Learn more here.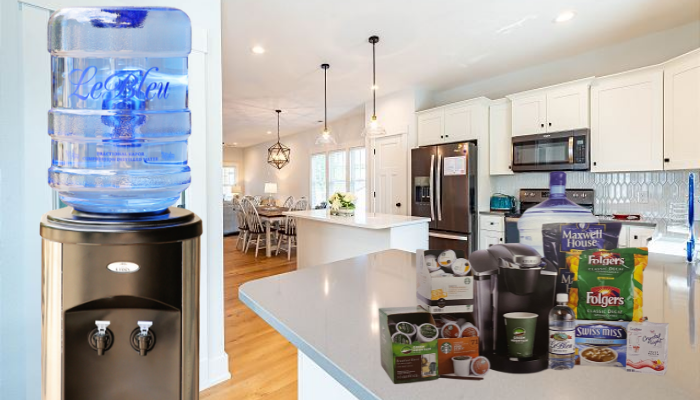 View Our Delight Your Guests Pinterest Board For Ideas
Keep in Touch 
Keep in touch with your guests by sending them a Christmas card, or a booking anniversary card/postcard thanking them for choosing your home and inviting them to come back, letting them know you are personally interested in their having a memorable vacation in your home.
Reach out to us, and we can give you your past guest list. We can also send an email to your past guests to offer them special repeat booking discounts such as a 5% discount for repeat renters.  
Read Guest Reviews
Your guests will let you know what they love about your home, and what they feel needs attention with reviews they leave on our website.  We encourage you to review your listing page regularly.  Here are a few of the most popular guest recommendations to give you an idea of where you may want to focus your next renovation project.