1 Sep 2022
One of the popular phone calls we receive from guests after check-in is regarding the internet service. 
What is the WiFi password?  If they haven't yet made it over to the fridge to put up the perishables, then they haven't seen the 8.5" x 11" magnet full of info with details about the house including the WiFi information.  We offer them for all home owners so if you need one for your home, please let us know! 
Is the internet working at all?  Well we all know there are several factors that go into what could be causing down time in regards to internet service. When we receive calls of this type, we reach out to the home's internet service provider either Charter Spectrum, or Century Link.  If it's Silicon Travel, well we  actually don't get those calls, so there's no need to act as the liaison between the guest and the internet service provider.  With Silicon Travel's FREE Direct Guest Support, it takes the Beach Realty service department out of the loop and guests can speak directly with one of the many call center technicians (who actually answer the phone) and will even go to the home if needed. This means a faster resolution to troubleshooting their issue whether it be an area outage, a router issue, or those smart TV's that make us feel, well not so smart! 
So when it comes to making our guests experience the best it can be, we hands down recommend using Silicon Travel as your internet service provider in your vacation home.  To help you compare costs versus value, here is a comparison between their service and Charter Spectrum: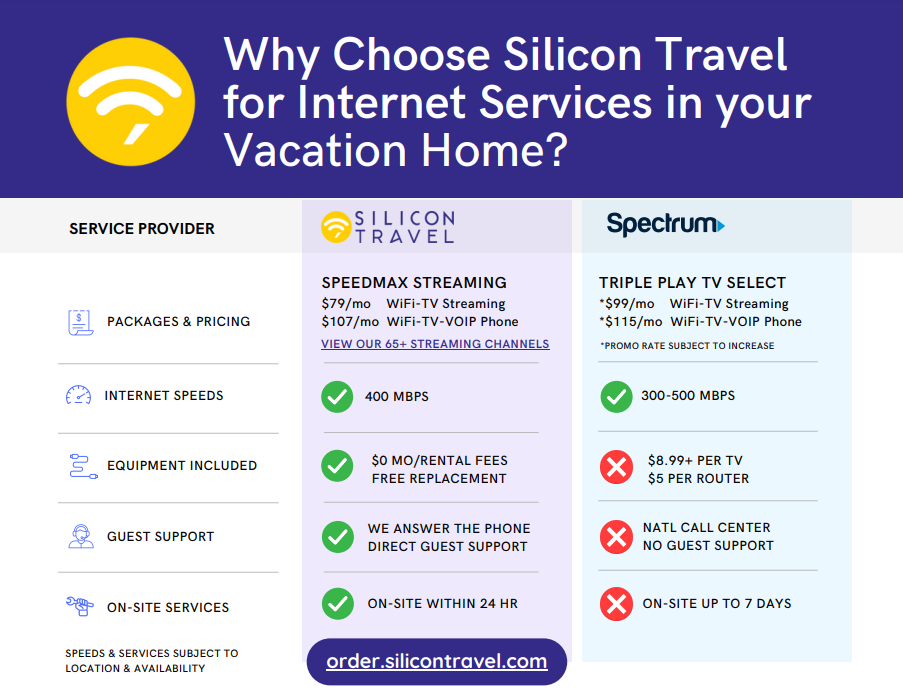 If your home offers their service, their toll-free support number is posted alongside the login credentials for your wireless network. 
Two more reasons to choose Silicon Travel:
Liability Protection: Their custom routers have a built-in Terms of Service Agreement which helps protect you from illegal WiFi activity as well as blocking SpyCams & other rogue devices that aren't registered to your account.
Personalized Property Guide & Area Directory: Once logged on to the home's WiFi, your guests will be redirected to a website about your home and the area. This website highlights your home's amenities and helps the guest contact your property manager, request maintenance, check out, rebook, discover the area, & more.  Now that's