28 Apr 2021
Let's be honest, we don't come to the beach just for the surf and sand. Restaurants and their appetizing offerings play a role in the vacation, too. One of the best ways to enjoy your summer vacation is dining at a spot where the scenery is as fine as what's on the plate. There are dozens of places to enjoy dining outdoors on the Outer Banks. You will be able to have some of the best views and most tranquil dining at numerous restaurants located from Corolla to Roanoke Island. We have made it easy for you with our roundup of the best outdoor dining on the Outer Banks. Take a look and make sure you try a few out during your next venture to the Outer Banks!
1. Trio Restaurant and Market in Kitty Hawk
Photo Credit: https://obxtrio.com/

Trio offers an exciting dining experience with an inviting vibe that truly sets them apart from the rest. They've created an environment that is simple, yet classic. You'll immediately feel at home and welcomed from the first step in the door. From wine and beer to cheese, charcuterie and inventive cusine, this establishment is sure to please! Showcasing 24 rotating craft beer taps from local breweries in the are to imported options, you'll find just what you're craving. Not a beer fan? Browse their extensive wine selection! Let's talk BRUNCH! Who doesn't love an afternoon libation to start the day? Stop in on the weekends from 11am - 3pm to enjoy a tasty meal and listen to local, live music! New for 2021, check out their outdoor dining options! Take in the fresh air, good food and great company! Stop on in!
Trio Restaurant and Market Menu and More Information
2. Eventide Restaurant in Duck
from sparkling wine to beer in a can; from plates to share to grilled cheese sandwiches; Eventide is a place to gather and relax with friends and family on Duck's beautiful waterfront. Out door dining at it's finest!
More information on Eventide in Duck
3. The Village Table and Tavern in Duck
Photo Credit: The Village Table & Tavern's Facebook Page
Owned by the same people as TRiO in Kitty Hawk, The Village Table and Tavern is located on the waterfront in Duck! They have something for everyone to enjoy, from inspired sandwich combinations to local seafood, creative cocktails, and more! Enjoy the outdoor bar located on the lower level of the restaurant, picnic table and seating, fun outdoor games, and watch the sunset go down over the Currituck sound! 
4. Miller's Waterfront Restaurant in Nags Head
Photo Credit: https://millerswaterfront.com/
One of the few soundfront restaurants on the beach, Miller's serves lunch and dinner daily, which allows you ample time to enjoy the view. They can handle families and large parties and have a varied menu with local seafood, steaks, chicken and creative salads and pasta. The kitchen prepares specials every day. They really do have one of the best sunset views. Have fun watching windsurfers and kiteboarders during the day while enjoying lunch on their newly-shaded deck. Or relax on the deck and catch live music Tuesday-Friday during peak season and a cocktail in the evening. 
5. Ocean Boulevard in Kitty Hawk
Photo Credit: https://www.facebook.com/OBBistro/
Ocean Boulevard is a casual yet upscale restaurant, which means you can enjoy a special evening out in the comfort of your sandals. They are, after all, just steps away from the ocean. Ocean Boulevard's culinary team serves an American bistro-style menu and has been praised in Southern Living magazine as well as The Washington Post. The menu changes seasonally but always includes lots of beautiful preparations of local seafood, regional poultry and meats, nightly chef specials and decadent desserts. They have a comprehensive wine list and a full bar with their own martini menu. Come here for live entertainment on Friday nights after dinner. Their oceanside patio is one of many unique features; it's an enjoyable hangout during the summer and you can often catch some live music during the week. Ocean Boulevard is open nightly for dinner year round. Reservations are suggested. 
6. Sunset Bar & Grill in Duck
Photo Credit: https://www.facebook.com/SunsetGrilleRawBar/
Sunset Grille and Raw Bar of Duck, North Carolina brings you the finest in fresh local seafood, steaks, pasta, and more with a Caribbean flair.  Our award-winning chefs are always working hard to prepare the finest dishes for our customers.
Sunset Grille is located on the best waterfront property on the Outer Banks in the village of Duck.  We are a total entertainment destination where families are welcome to enjoy our wide array of activities including breakfast, lunch, and dinner served daily as well as outdoor waterfront deck dining areas, 3 tiki bars, sushi bar, raw bar of course, and large indoor dining areas.  All in a true Caribbean setting.  Sit among the palm trees sipping your tropical libation from our award-winning specialty drink menu.  Or go and rent a waverunner from our Watersports operation on the gazebo. 
7. Mulligan's Raw Bar & Grill in Nags Head
Photo Credit: https://www.facebook.com/MulligansOBX/
Located at milepost 13 in Nags Head across from Jockey's Ridge State Park, we have unbelievable views from our second-floor deck of the Atlantic Ocean and the historic Nags Head cottages. As a matter of fact, we don't believe that you can truly unwind until you've ordered an Orange Crush on the deck at Mulligan's!
Take a look at our menu or daily specials page to see what local seafood we are getting in today and know that we strive to buy as much of our products as locally as possible—local seafood, local produce, and locally butchered meats. We strive to bring only the freshest local food to your table, from hand-cut beach fries to oysters straight from the Pamlico Sound. We give a whole new meaning to Southern Coastal cuisine.
So come hang out where the locals are… at Mulligan's Raw Bar & Grille! 
8. The Roadside Bar & Grill in Duck
Photo Credit: https://www.facebook.com/The-Roadside-147281665292486/
The Roadside Bar and Grill has been serving top-notch meals and handcrafted cocktails since 1995. They are located in the heart of Duck in one of the village's original cottages. They serve local seafood, North Carolina barbeque, seasonal foods, and specials. They frequently host events at their unique Backside Bar. 
9. Hurricane Mo's Beachside Bar & Grill in Kitty Hawk
Photo Credit: https://www.facebook.com/Hurricane-Mos-126431787407769/
Hurricane Mo's is just steps from the ocean and has an intimate, beachy atmosphere. On the menu, you'll find fresh seafood, steaks, chicken, pasta, and sandwiches. Daily specials are offered at lunch and dinner. Kids will be happy with the selections on their children's menu. They have a full bar and happy hour specials from 3  to 5 p.m., including 15-cent shrimp, 35-cent wings and $1 tacos. Hurricane Mo's is open year round for lunch and dinner, and you can get take-out if you prefer. They offer free WiFi for customers to use. Check them out if you're looking for fun. If you are after fun and sun, have a drink and bite to eat on their new outdoor covered deck overlooking the ocean. 
10. Fish Heads Bar & Grill on the Outer Banks Fishing Pier in South Nags Head
Photo Credit: https://www.facebook.com/FishHeadsBarandGrill/photos/a.326837587349307/3...
About to gear up for another season, Outer Banks Pier has open-deck dining! A roof over the deck just to the side of the pier house shades bar-style seating all around the edge and tables in the center. They serve hamburgers, fries, steamed shrimp and veggies, fish tacos (yum!) and more. Wine and beer are available, and they also have some breakfast sandwiches for the early birds and anglers. They're open every day, with a daily happy hour from 4-6 p.m., and have live entertainment every night during the summer. 
11. Rundown Cafe in Kitty Hawk
Photo Credit: http://www.rundowncafe.com
Rundown Cafe serves island cuisine in a casual atmosphere. The food is a fusion of Pacific Rim and Caribbean flavors, and they have a substantial menu of vegetarian options. Upstairs you'll find an authentic surf bar, named the Tsunami Bar, with a brand new, super large, ocean view deck where you'll find live music in season. Outside you will find a koi pond! This is a great family-friendly restaurant since the menu is very affordable and there are lots of choices for kids. Rundown serves lunch and dinner seven days a week in the summer. You can also order take-out here. They are closed from the end of November until March 1. 
12. John's Drive In in Kitty Hawk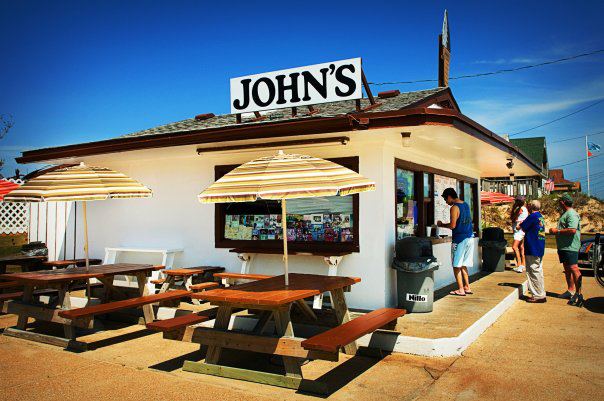 Classic drive-in shack (open May-October) specializing in thick milkshakes & fried fish sandwiches. Located on the beach road in Kitty Hawk around MP 4, this amazingly yummy restaurant is an Outer Banks favorite! You order at the window and your food is served in to-go containers but they have outdoor picnic tables for your enjoyment. You've gotta try the Dolphin Boat! 
13. Mike Dianna's Grill Room in Corolla
Photo Credit: https://www.facebook.com/MikeDiannasGrillRoom/
Mike Dianna's Grill Room has become a legendary Outer Banks restaurant. Fine dining with a casual atmosphere, it is most well known for its excellently prepared meats — offering all-natural and USDA Prime beef, pork, chicken and veal — cooked over a hardwood grill. The fresh, local seafood is treated just as beautifully, and there are daily pasta specials. The distinctive wine selection has won Wine Spectator's Award of Excellence for the past nine years. They have an outdoor deck and bar with live music seven days a week in season. From Memorial Day through Labor Day they serve lunch outside on the deck daily, starting at noon. The restaurant opens for dinner at 5 p.m.; reservations are recommended. Most nights they serve beverages until midnight. They are kid-friendly and offer a kids' menu. Mike Dianna's Grill Room can accommodate rehearsal dinners, small intimate weddings, and other family gatherings. 
14. Arts Place in Kitty Hawk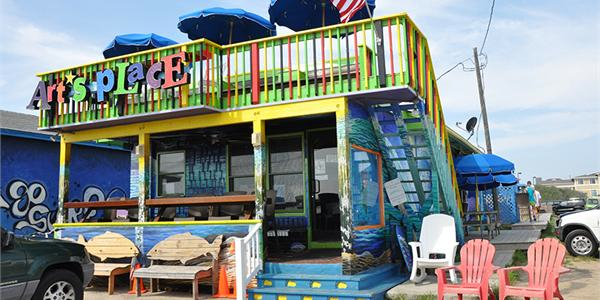 Art's Place is a local's favorite for a delicious cheeseburger or a filling breakfast in a laid back atmosphere. They are open for breakfast, lunch, and dinner and they offer live music throughout the week! Art's place is located in Kitty Hawk around Milepost 3 on the beach road. So if you're in the mood for some good ol' American cuisine – stop into Art's place on your next OBX vacation! 
15. Lost Colony Brewery & Cafe on Roanoke Island in Manteo
Photo Credit: https://www.pauldiming.com/
Lost Colony Brewery (formerly known as Full Moon Cafe) has been a favorite dining destination on the Outer Banks since 1995. The location on a busy corner in the heart of downtown Manteo gives the restaurant a lively, happening feel. Dine outside under shady umbrellas or take a seat by a window indoors; either choice offers a great view of the activities in downtown Manteo. The atmosphere here is fun, un-stuffy and relaxed, with friendly service.

The new brewery is the only place in downtown Manteo to taste flavorful, hand-crafted brews and watch the ancient art of brewing. The wine list is extensive, with more than 70 bottles offered.
Their food is diverse, delicious and incredibly fresh. The owners have high standards for freshness, flavor, and presentation. They're known for their perfectly prepared Angus steaks and fresh, local seafood, but the menu includes a surprising range of fare for everyone from seafood lovers to meat eaters to vegetarians to kids. 

The café is open for lunch and dinner seven days a week in-season. Call for off-season hours. Dinner reservations are accepted.
16. Blue Point Restaurant in Duck
Photo credit https://thebluepoint.com/
As we celebrate 30 years, overlooking the Currituck Sound from our perch at the end Duck's soundside boardwalk in the Waterfront Shops, THE BLUE POINT still strives to be an active ingredient in the neighborhood mix of locals and visitors. Our menus change seasonally based on the best local produce and sustainable NC Seafood. Traditional signatures can be found on our menu, from jumbo lump crab cakes, Rosebay oyster stew (winter) and scratch she crab soup (summer), to contemporary takes on dishes such as brandade, ceviche, smoked vegetables and cured meats. As a kitchen, we've always been proud of our fresh baked breads, biscuits and desserts plus house-churned ice creams & sorbets. Throughout the years our philosophy has remained the same - keep our dishes simple, personal and consistent with strong roots in Southern cooking.
17. Oceanfront Grille in Corolla
Photo Credit: https://www.facebook.com/OceanfrontGrille/
The Oceanfront Grille at Corolla Light is the only oceanfront restaurant on the Currituck Outer Banks.
The menu includes a mixed grill, seafood, and children's options. Join them on their outdoor deck to try our signature crabcakes. 
18. Outer Banks Brewing Station in Kill Devil Hills
The Outer Banks Bewing Station is great for the whole family. They offer a great varity of outdor activities such as, outdoor dining, full outdoor bar, playground, cornhole and acoustic music. With a great selection of food they also offer on-site brewery, full ABC permit, great wine list, domestics, hand made sodas, craft cocktails and mocktails. 
19. Cravings in Duck
Photo Credit: https://cravingsobx.com/
Cravings is a full service restaurant located in the heart of Duck, NC. Serving breakfast, lunch and dinner with indoor and AMAZING outdoor seating, they offer the freshest local seafood, prime steaks and steamer pots to-go. Top that off with a full bar, live entertainment, drive thru window and more and you'll see why Cravings is the hottest place in Duck.
20. Agave Roja in Corolla
What do you get when two well-traveled gringos, one of them a seasoned chef, decide to open a hip tequila bar in a coastal town? When that town is Corolla NC, where bars are required to serve food, you get Agave Roja. When we opened six years ago, we wanted our food to match the high quality of our tequila offerings, so we crafted contemporary menus of Mexican fare and fresh, Latin-inspired twists on local seafood and exceptional-quality meats. The food has since eclipsed the tequila bar, and Agave Roja has proven to be a definite favorite among the Corolla NC restaurants.
Now that you know where you're gonna eat, let's find a place for you to stay… Start your Outer Banks Vacation Rental Search!
Did we miss your favorite Outer Banks Restaurant? Let us know where you like to eat in the comments below!