2 May 2023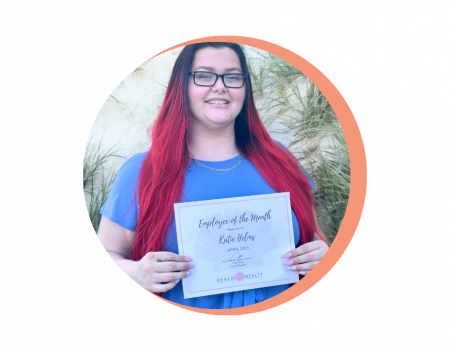 April 2023 Employee of the Month
Katie Helms
Please help us recognize Katie Helms as our Employee of the Month for April 2023! 
From her peers:
"Katie always has a smile on her face and is good for a much-needed pep talk during a hectic day!"
After working in construction for 10 years, Katie joined the Beach Realty team in July of 2021 as a Cottage Inspector quickly moving into the inspections coordinator role.
When she's not helping coordinate schedules for house cleaning and inspections, making sure the housekeeping operation has everything it needs to get the homes ready for guests checking in, and ensuring guests have everything they need while vacationing with Beach, she enjoys spending her time off with her young son and daughter (7 and 10yrs), the "light of her life!".
"I wish I could tell every single employee at Beach Realty how much they mean to me and how much they have changed my life. To know that there really are good people in this world and I get the opportunity to be able to work with them everyday is amazing and I deeply appreciate every one of them."