20 Apr 2023
Just wrapped up an intense Deadliest Catch marathon and have the sudden need to eat your weight in crab legs?  As luck would have it, we have several restaurants that serve up those giant Alaskan Crab legs and their smaller counterparts, the Snow Crab.  
Now if your affinity for reality tv, combined with extreme fishing, led you to another show, perhaps the popular series 'Wicked Tuna: Outer Banks,' then it's likely you now have your taste buds set on some fresh local fare.  The good thing is, there are a ton of spots to choose from in each town that do just this! 
Whether it's crab legs, shrimp, oysters, clams, scallops, local blue crab, rockfish, flounder, or tuna, to name a few, here are some restaurants with seafood on the menu, serving up not only tuna, wickedly fresh tuna that is, but a vast array of culinary delights from the sea. 
So, grab your appetite, and head on out, but not before you read this post!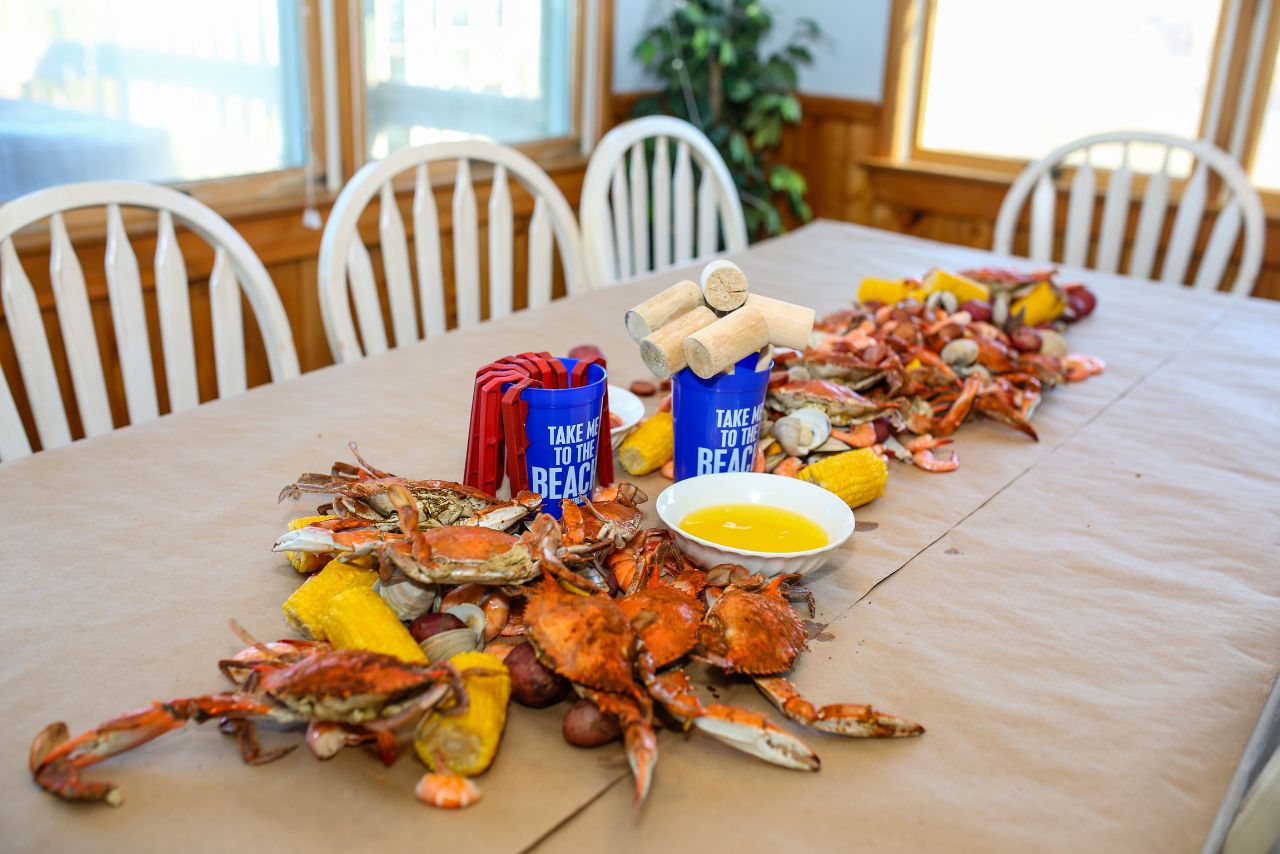 Oh, and one more thing, if you've never tried seafood, we're not talking about frozen fish sticks you throw in the toaster, but the real kind, and you're ready to give it a go; we are confident you'll love it!
Wherever your current seafood palate may fall, we want to make sure that you know where to go for the best seafood around.  So keep reading, and do make sure you tag us in your photo from the Outer Banks Seafood Restaurant of choice on social media with what you tried and where! Because there simply aren't enough food photos on Instagram, right?  Anyway, please share; we can't wait to see them, (even if it's a basket of fried clam strips and popcorn shrimp.  Hey, you gotta start somewhere!)
So here we go, ordered from North to South, are our top choices for restaurants with deliciously prepared social media post-worthy seafood menu options.    

Top OBX Seafood Restaurants By Town
Corolla
North Banks Restaurant and Raw Bar  
Mike Dianna's Grill Room
Uncle Ikes Sandbar & Grill
Bernie's Brother Tropical Grill and Bar
Sun Fish Grill
Upside Restaurant & Bar
Duck
The Blue Point
Aqua Restaurant
Red Sky Café
NC Coasts Grill & Bar (Share 'The Board', while sharing incredible sunsets over the water!)
The Paper Canoe
The Village Table & Tavern
Kitty Hawk
Ocean Boulevard
Trio Restaurant and Market
The Black Pelican
Jimmys Seafood Buffet
Hurricane Mo's Beachside Bar & Grill
John's Drive-In (grab yourself a famous Dolphin Boat!)
Kill Devil Hills
Colington Café
Captain Georges
The Kill Devil Grill
Noosa Beach Grille (Peoples Choice Winner 2021)
Red Drum
Goombays Grill & Raw Bar
The Salt Box Café
Mahi Mahs
Mama Kwans Tiki Bar & Grill
Nags Head
Millers
Sam & Omie's
Blue Moon Beach Grill
Basnight's Lone Cedar Cafe
Fish Heads Bar & Grill
Owens Restaurant
Tortugas' Lie Beach Grill & Bar (super fresh creative dishes...try the 

quinoa salad with fresh tuna or the grilled fish and black bean burrito)

Mulligans
Lone Cedar Basnight
Sugar Creek - get the fried shrimp!
Whew! Creating that list was not an easy task!  And truthfully, it could be much longer!  There are just too many restaurants to choose from that serve up seafood dishes deserving of a blue ribbon!  In fact, if you are down here in October, plan to attend the Outer Banks Seafood Festival, where you can sample and vote for your favorite dish while learning about the coastal seafood heritage and community on the Outer Banks.  
Or you can learn about the local fishing industry right now by watching this video on Dare County's Commercial Fishing Industry: Watch Video 
Not in the mood to go out?  Or maybe you rented a home with a kitchen that is begging you to cook your own?  If so, here are some Sea Food Markets where you can purchase some freshly caught fish and talk to the experts about their favorite way to prepare it!
Cook at Home
Or Catch your own! 
Pier Fishing - great for crabbing, sightseeing, and casting a line!
Charter Fishing – if you want to try your hands at deep sea fishing, our friends with Fishin' Fannatic will gladly take you either Near-Shore or Off-Shore for some sportfishing excitement.  If your sea legs need to ease into the sportfishing game, we suggest In-Shore Fishing with Outer Banks Fishing Outfitters
Fish in your own backyard! Search for Canalfront or Soundfront Vacation Rentals where you can crab, or drop a line.  There are plenty of bait and tackle shops around town to help equip you with everything you need!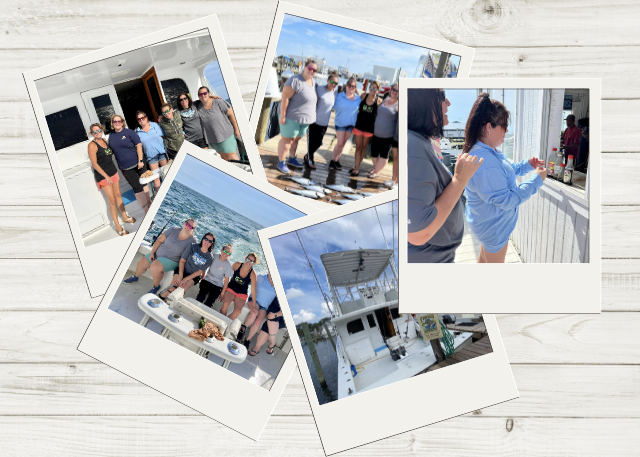 Beach Realty employees enjoyed a day of near-shore fishing followed by a taste of their fresh catch!   
Want to learn more about when, where, what, and how to fish on the Outer Banks? Visit www.outerbanks.org and their Outer Banks Fishing page for details!