13 Oct 2022
Attention Stargazing Enthusiasts!  
by Brandi McMahan, Beach Realty Marketing Coordinator
So my 11-year-old informed me last night of an upcoming meteor shower.  When I came across a photo the next morning at work of one of our many homes with a hot tub set up on the top-level deck, I thought to myself, "wow, what a great spot to catch a meteor shower; let me Google this meteor shower thing." 
After a quick "meteor shower 2022" search, low and behold - it's going to be a doozy! 
Here's what I learned:
Halley's Comet (even the lesser space nerds know about this one) will be responsible for two meteor showers as we pass through its debris next week. Debris caused when Halley got close to the sun and melted a tad, thus shedding some elements such as ice and rock, dust, and the like.  These showers happen twice a year and will peak overnight on Thursday, October 20th/ Friday, October 21st. (thank you Forbes.com).  
Next, I checked the moon phase and the weather forecast (no rain and cloud free) and, well let's just say... it led me to write this blog post in a hurry because with a crescent moon that means even less light, and more stars to see!  
Now living on the Outer Banks, I'll admit, I take advantage (or don't take advantage rather) of the fact that our lack of light pollution gives us many a night full of stars.  The milky way is on display quite often, and we have some talented photographers who stay up into the weeee hours to capture its magnificence while we catch some zzzzz's. We even have some night owls with a good cellphone camera too!  Like my husband's shot below taken with his iPhone 12 Pro Max. (actually this was probably taken before 10 pm, I was still up, and seething in envy over this better phone camera quality!)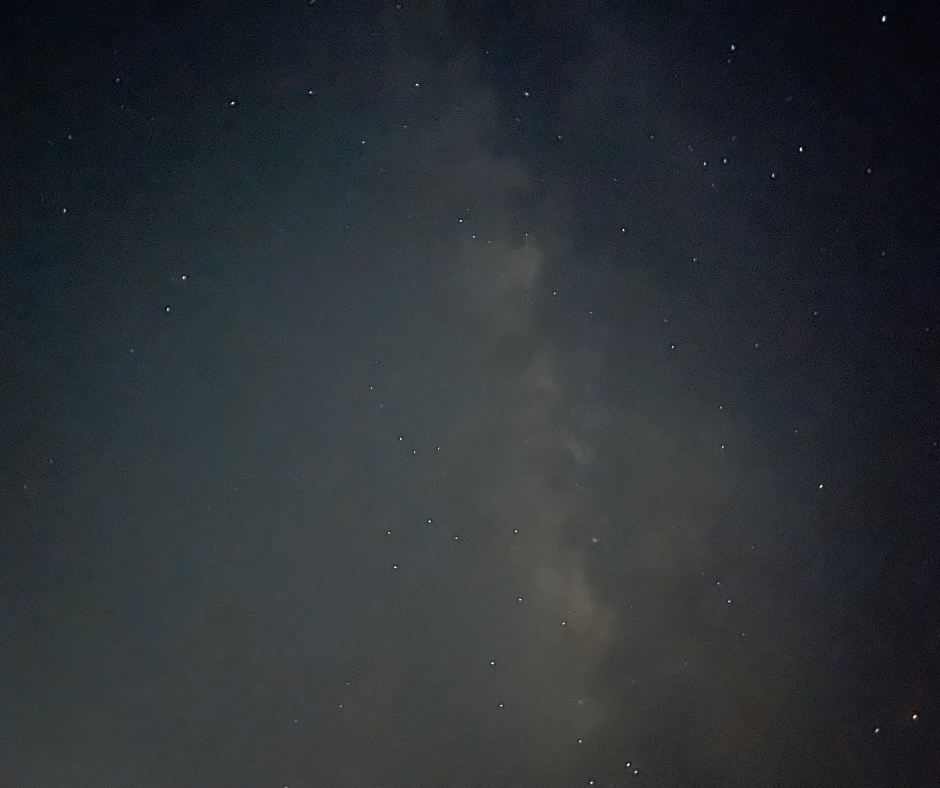 Luckly now that the sun is setting earlier, we can get our night sky gazing in without losing our beauty rest.  
So if you are looking to experience what is bound to be an event worth staying up for, head on down to the Outer Banks.  There are many places one can observe the night sky, whether it's the beach, or by the sound at one of our parks such as Whalehead up in Corolla or the sound side park in Nags Head.  We also have many homes with decks overlooking the ocean, or sound, or both, for an obstruction-free sky view over the water.  
But if you really want to get away from it all, the Carova 4x4 area, truly off the beaten path (the only road in is the beach itself), no paved roads equal no street lights, equal very very dark.  If you are ready to be immersed in total quiet and darkness, you will quickly feel connected to nature, as if there is nothing between you and the night sky, or the wildlife, including the famous wild Spanish Mustang that roam free (but not in the dark, we think).  Anyway, it's truly a magical place, and if you're ready for the experience, you can check and see which homes in the 4x4 are available for your adventure!  
Wherever you choose to stay,  the odds are in your favor for a breathtaking view of the night sky.  We hope you'll make the trip! But if you can't make it down next week for the meteor shower, we promise these night skies aren't going anywhere, and we'll save you a seat!
Update:  the forecast is still calling for clear skies and if you can't stay up late on a week night, according to this article from the American Meteor Society,  "the Orionids are strong for several nights surrounding October 21st" and "you can still witness good rates just before and after the maximum. As for bright city lights, it is highly recommended that you find a safe rural observing spot away from city lights as the more stars you can see, the more meteors you will count."  So the Outer Banks it is!