Welcome to our Corolla, NC information page. If you're looking for Corolla vacation rentals, please proceed to our vacation rental listings:
About Corolla, NC
Corolla is a northern Outer Banks beach town in Currituck County. The town of Corolla is comprised of mostly Oceanside and Soundside vacation rental communities, many offering community amenities. Corolla is attractive to families of all kinds, including families with young children. Beach accesses are conveniently located throughout each community.
Corolla Attractions:
Currituck Heritage Park
Located in Corolla. Visit the Whalehead Club, a restored hunt club built in 1925. The park is a great place to go crabbing – bring along a chicken neck and a string. There is a public boat launch available for small watercraft. Visit the Outer Banks Center for Wildlife Education and explore coastal North Carolina's wildlife, natural history and cultural heritage. Climb to the top of The Currituck Beach Lighthouse for the best view of Corolla. The lighthouse was the last lighthouse to be built on the Outer Banks. There are 214 steps, and the height to the top of the roof is 162 feet. One of the residences now houses a Museum Shop.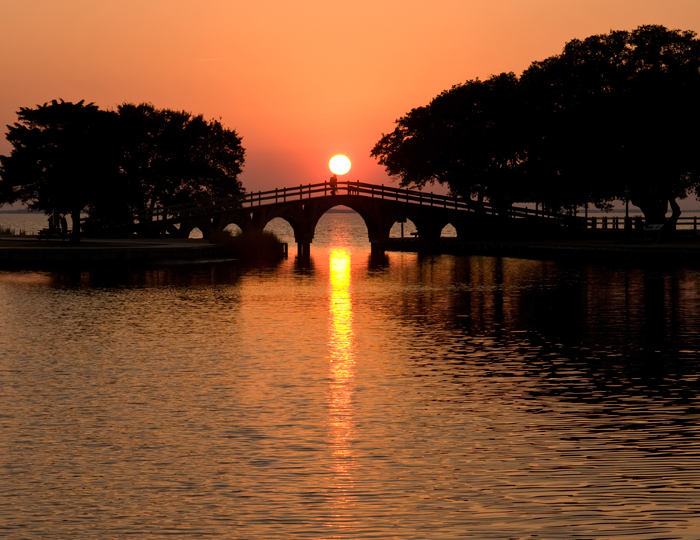 Old Corolla Village
Located near the Currituck Beach Lighthouse. Stroll down the streets and stop in the quaint shops which are historic homes that have been restored and relocated to the small village.
Corolla Chapel
Located behind the Currituck Beach Lighthouse, the Historic Corolla Chapel was built in 1885. Interdenominational services are held year-round. It still has the original interior walls and ceilings and is furnished with many of the original items including its pews, pedal organ, pulpit and pulpit chairs.
The Currituck Club Golf Course
A Reese Jones designed golf course rated one of the Best New Places You Can Play by Golf Magazine. The breathtaking layout stretches across 6,885 yards of remarkably diverse coastal terrain, including sand dunes, wetlands, maritime forests and sound side shoreline. 
Corolla Wild Horses
If you have a four wheel drive vehicle, take a ride on the 4x4 access beach. Wild Spanish Horses roam free. Wild Horse Tours are available if you do not have a 4 wheel drive. Be sure to bring your camera!
Corolla Restaurants
Corolla, NC offers many local restaurant options. We have listed a few of our favorites below...
Agave Roja - Enjoy traditional Mexican food and Latino fare with a twist at Agave Roja. The year-round restaurant is a colorful stop with red and orange hues, tile and woodwork warming the dining venue. The atmosphere is relaxed and comfortable yet classy. Dining is available at the bar or tables. Open for lunch and dinner. Located in Monterey Plaza, 807B Ocean Trail, Corolla, NC
Bad Bean Taqueria - Offers a fresh take on Mexican cuisine in a friendly, modern atmosphere for lunch and dinner. Consider starting out with an order of chips, salsa and guacamole or try the delicious queso dip. Located at 785 Sunset Blvd Corolla, NC
Bambino's Little Italy - Known for using fresh, local ingredients and their creative flair with food. Executive Chef Rudolph Sprinkle and Sous Chef Amanda Wolf prepare favorite dishes as well as new takes on North Carolina and Italian fare. Located at 1159 Austin St Corolla, NC
Buddhalicious - Corolla's newest restaurant offers dishes from throughout South East Asia, using contemporary techniques with fresh and authentic ingredients. Located at 887 Albacore St Corolla, NC
Crafty Cow Burger Bar - Offers high quality freshly grilled 100% all natural burgers with exciting contemporary toppings. Located at 817 Ocean Trail Corolla, NC
Steamers - Gourmet food to go and catering. Or you can dine onsite including their deck that overlooks Currituck Sound. The massive menu continues with an array of soups, salads and sides. Seafood – including lobster - roasted chicken, vegetarian lasagna and baby back ribs and crabcakes make for tasty dinners. Located at 798 B Sunset Blvd.Timbuck II Shopping Center Corolla, NC
Corolla Communities
Corolla Town Information
The Town of Corolla maintains no public beach access. Access to the Town beach is limited to residents, renters, and their guests.
Town of Corolla Contact Information: 
Town Hall 252-453-8555 www.co.currituck.nc.us
Corolla Trash Pickup Schedule:
Currituck County Trash Collection: Please have your trash ready for pick up on the days indicated below. Missing even one pickup day during the summer months can inconvenience all parties.
Summer service schedule (May 1 - September 30): Trash - Wednesday & Saturday; Recycling - Saturday. Winter service schedule (October 1 - April 30): Trash & Recycling - Wednesday.
Corolla Leash Laws:
All dogs must be kept on a leash while on the beach. Dog owners must always pick up after their dogs.
The History of Corolla 
Corolla, originally named for a small village surrounding the Currituck Beach Lighthouse, has recently grown into a thriving vacation destination. Corolla includes the area between the Dare County line and the end of the paved road, just before the four wheel drive access. Until 1984, only landowners could access Corolla. When the gates were removed, the major development began, and lavish vacation homes in thoughtfully planned developments were built. Most people visit Corolla for the miles of beautiful beaches, however, there are many other attractions for visitors to enjoy. The Whalehead Club is located at Currituck Heritage Park along with the Outer Banks Center for Wildlife Education and the Currituck Beach Lighthouse. Just north of the Currituck Beach Lighthouse is old Corolla village where you can take a stroll and discover quaint shops and the Corolla Wild Horse Museaum. The Corolla wild horses, which roam free in the four-wheel drive area, are perhaps the most famous Corolla attraction.
Mostly locally owned and operated, shop at the unique shopping centers of TimBuck II Shopping Village, with water sports and go carts; Monteray Shores Shopping Plaza, with wall climb and movie theater; and Corolla Light Town Center, complete with a skate park.  Take the time for a relaxing spa treatment at the Sanderling Spa, sure to enhance any vacation.  To experience the natural and historic Corolla, The Currituck National Wildlife Refuge located on an Outer Banks barrier island. Many of the native animals can be seen wading through the marshes, or basking in the sun.  Still in its original structure from 1875, the Currituck Beach Lighthouse is a little piece of history.  The Outer Banks Center for Wildlife Education shares with visitors Currituck's coastal wildlife and traditions of fishing, hunting, and decoy making. It is conveniently located near the Lighthouse.  While in the area, tour a Currituck landmark, the fully restored Whalehead Club.  The Corolla Wild Horse Fund, in Old Corolla Village, offers a museum and shop.  Learn about the history of the majestic, 16th century Spanish mustangs that roam free in the grassy dunes of Corolla.  Corolla is the ultimate vacation destination.